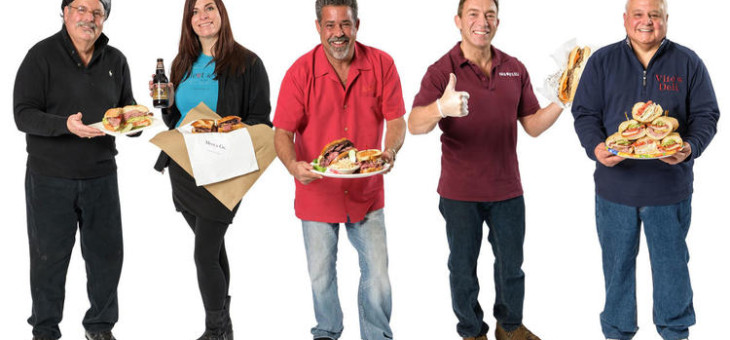 On New Year's Eve, NYC's iconic Carnegie Deli served its last Brisketball sandwich ($30, oy) and closed its doors forever. Don't panic! Some of the greatest sandwiches in the world are right in our own neighborhoods, no train ticket required. Here's a selection of spots that offer mini-masterpieces of protein, fat, and sodi-yum.
Steven Katz
Katz's Deli, Woodbridge
If you've ever been to Katz's Deli, the lively hub with the 238-item menu and the outrageous "Sky High" meat sandwiches, you'd likely imagine owner Steven Katz as a fast-talking, wise-cracking character with a passion for food and a penchant for bold business moves. And you'd be right. Arguably the most "New York-y" deli in our area, Katz's has borscht, blintzes, chopped liver and sable, plus salads, wraps and nearly 80 sandwiches, including the top-selling pastrami on rye. In the great old-school deli tradition, coleslaw and pickles are on the house. "We go through 500 pounds of slaw a day, and we make it fresh every morning," says Katz. That's not all: "I make my own brisket, my own corned beef, top rounds, roast turkey, all soups. Everything comes to me fresh and I cook it. Except the Hebrew National bologna."
Ray George
Ray & Mike's, Hamden
Part convenience store, mostly sandwich shop, Ray George opened his deli in 1997, when nearby Quinnipiac College was at the dawn of its rapid expansion. He's been open every day since. "I'm beyond a workaholic," says the jovial George, who notes that his parents owned a deli in Milford that was also open 365 days a year. His regulars are so loyal and consistent that, "When I see them pull up in their car, I start making their sandwich." They come for the Egg Bomb, the eggplant parm and The Irresistible (pictured). But the star of the show is the Steak & Cheese, which has been winning awards for years and which is now available topped with mac and cheese.
Danielle Ginetti
Meat & Co., New Haven
In sandwich world, Meat & Co. is the cheeky new kid on the block. Unlike the familiar "something for everyone" deli menu, co-owner Danielle Ginetti — with John Ginetti and Bruce Dittman — offers 12 chef-composed sandwiches, with names like the God Forbid and the Rick Reuben (pastrami, tongue, All-Day Sauce, cheddar and red cabbage slaw). A direct outgrowth of 116 Crown Street, the revolutionary cocktail bar and restaurant next door, Meat & Co. is an up-close-and-personal place that utilizes 116's kitchen during the day and offers a late-night menu on the weekends. (The Vegetarian Steak & Cheese – a grilled cheese sandwich – is a fave.) How's it going? "We're really busy!" says the vibrant Ginetti. "Here in New Haven, when people like you, they like you."
Alan Rice
Amity Meat Center, Woodbridge
His family has been feeding New Haveners for generations. "My grandfather and father ran Congress Public Market for 100 years," says Alan Rice. "The neighborhood also had Hummell's, Lender's, Leon's," he recalls. "My father was beloved." In 1979 Rice and his sister Judy (who handles the cooking), opened Amity Meat Center, a full-service butcher with deli and prepared food offerings and a focus on quality. "I give people the best I can," says Rice. Two years ago, Amity expanded to include a new kitchen and a seating area. There, patrons enjoy delicacies like hand-sliced lox on fresh bagels and sandwiches such as the Coach Special, featuring a chicken cutlet, roasted peppers, mozzarella and balsamic.
Vito Bonanno
Vito's Deli, New Haven
"I started selling papers on Church Street when I was nine years old," says Vito Bonanno. "When I opened a newsstand, someone said, 'Vito, you ought to think about making a sangwich.'" Over the next 43 years, with the help of his childhood sweetheart/wife Jo-Ann and brother Leonard, Bonanno has grown his menu from six sandwiches to flavorful creations like the Godmother (ham, capicola, banana peppers, Genoa salami, provolone, lettuce, tomato and house balsamic on Apicella bread). "We have seen a lot of businesses come and go," he says, recalling with emotion the 2008 fire that gutted nearby buildings. "The NHFD got on my roof and kept the fire away. Now we're serving second and even third generations of customers. It's a great feeling."